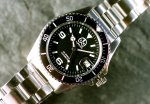 For men, diver, steel case and bracelet, mineral glass, date, black bezel, black dial, ETA 2824-2 automatic movement, 39.5 mm diameter, 200 m water resistant, screw-down crown, magnifying glass
Est. 1956, OW was famous in the 60' when their M-65 Model became the GI's watch in Vietnam.

For two years, they produce it again with new 60' and 70' old movements and a screw down crown. A watch for collectors and for people who want to be in the vanguard.

Connoisseurs appreciate their robust diver watches too with their massive steel bracelet and the famous Swiss ETA 2842-2 movement.

OW: rugged good looking sports watches for real guys…
The History of Ollech & Wajs - Written by Neil Wood, but in consultation with Mr. Albert Wajs for authentication of the history of his company
Ollech & Wajs started business in the 1950's when Albert Wajs began making and supplying stainless steel bracelets for wristwatches. In 1956, a partnership was formed with Mr Ollech, and they soon began manufacturing wristwatches. From the outset, the design philosophy was to create durable and good looking sports watches at affordable prices. Business was done from their retail premises in Zurich. They soon began to expand into world wide markets, more notably the US and UK markets. This was achieved through a low cost approach so as to keep the watch prices low. They began to advertise in magazines that were popular with aviators, soldiers, divers and sportsmen. They were selling direct to the end user by mail order from Switzerland. They cut out all of the middlemen, and there was no need to invest heavily in overseas infrastructures, so the cost of quality watches was kept to a minimum.
Sales were increasing so the O&W company were able to produce more models and focus on production methods so that the quality became better. In the 1960's they were selling a high quality professional divers wristwatches for US $12. These watches became very popular with US soldiers who bought them privately, as they were the best quality watch and value for money they could find, and they were a vast improvement on their inferior quality government issued disposable watches.
Sales reached an all time high during the Vietnam era when they were selling thousands of watches via direct mail order. Towards the late 1970's, Mr. Wajs bought up much of the Breitling stock for the aviation models such as the Navitimer. They began producing their own label watches with the Breitling cases and the same calibres used in Breitling watches. These watches were branded "Aviation" and are now highly prized amongst collectors. The advent of the quartz powered mechanisms drove down much of the traditional watch making industry, and O&W ceased production in the early 1980's.
By the early 1990's, the more discerning consumers who were concerned with quality, style and craftsmanship were becoming tired of quartz wristwatches. Whilst quartz watches were accurate, they were mass produced, often lasted less than a few years years, lacked in character and had no soul. This thought allowed a resurgence in Swiss watch making where customers preferred the machines made by highly skilled craftsmen who have inherited their skills over hundreds of years in the making. O&W subsequently began production again, this time under a new company, formed by Albert Wajs. The company is called A. I. Wajs, who proudly present A. I. Wajs Army Watches. They still use the logo and the brand name Ollech & Wajs or O&W, as these brand names are owned by Albert Wajs.
Albert Wajs is running the company with as much energy and enthusiasm as ever. He is constantly coming up with new ideas and creating new models. He calls upon his wealth of knowledge and technical brilliance to create innovative, fresh and appealing designs. His philosophy however still remains today as it did when he started in business – cost effective, durable and good looking watches. He is passionate about watches, is well known and well respected amongst the Swiss watch making fraternity. His passion and desire is reflected in his "appeal to all" wristwatch designs, and his personal success.